Color is a Living Energy. It is a property of light. Light is an electromagnetic energy produced by the sun in different wave lengths. All color emits a particular energy vibration or frequency.
This is such an important component of Traditional Feng Shui because we want to truly understand how powerful Color can be. Color can enhance the energy of a particular location or it can weaken it. We can create a happier and less stressful Season with less misunderstandings and less arguments if we take a look at where we are using certain colors.
Christmas is the real culprit when dealing with powerful colors. The Reds, the purples, pinks, etc…are strong Fire energy colors. Depending on where your Tree is located, or even your Dining Room, there is a higher potential for using potent Fire colors and they usually stay up for 6 -7 weeks during the Season! That is a big shift in energy and for quite a substantial period of time. We are not usually bringing in so much extra Red unless we have big Valentine's event-and even then-it is just a few days- not almost 2 months.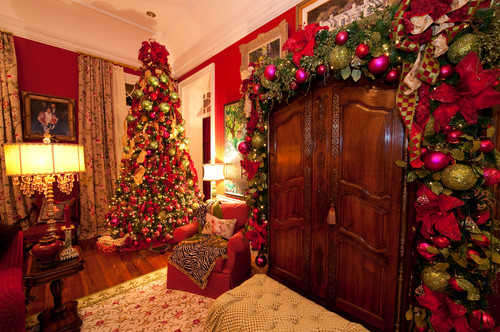 If you feel your Holiday season is fraught with disagreements and poor communication-see  your if Christmas Tree is located in the Southeast corner of your house or apartment. Use your Smart phone Compass App and find your Southeast corner. Try and stand in the center of your home to get an idea of where your Christmas tree is located. If you find your tree is usually in that Southeast corner-try changing up your Holiday decor.  Create a more green and natural looking color scheme and minimize the reds.
If your tree is in the North location-using a great deal of Red, Pinks or purples can be more stressful emotionally. If you find you have been sad around the Holidays and seem to always feel depressed try a natural tree with blues and greens. These colors will help balance and support your Emotions during this sometimes highly emotional season.
This is also a gorgeous Holiday color scheme for the Northwest and West locations.
The great thing about Hanukkah is that the colors are so adaptable and work in any location. All the blues, whites and metallics do not have the same impact as the reds, pinks and purples. They might dampen the South a tiny bit -but nothing major in terms of how everyone relates.
Color is such a powerful energy. How we use it is a powerful tool for transformation. Remember that your Home, no matter how big or small, is your universe; your world. In every season-be mindful of your ability to Create your world and manifest all things wonderful into your life!
Joy to the world and to all of you!
Love and light,
Dee XO